Travel Agents: How - and when - to get the best deals on these top 5 vacation destinations

While last-minute deals often get a lot of press, what smart travelers know - and live by - is that thinking ahead is the most reliable way to get the best deals. After all, waiting until just before you're ready to go might leave you stuck with few options and lots of restrictions - or worse, no vacation at all. Airlines and hotels are thinking ahead, too, and are eager to fill up planes and hotels. That translates to great prices right now - the ideal time to book for the best vacation deals.
These five destinations are the perfect combinations of great deals, plentiful sunshine and activities for all types of travelers:
* Mexico.
Our neighbor to the south has more to offer than you might imagine. From beautiful beaches to rich history, cultural diversity to delectable cuisine, Mexico has it all and then some - just a short flight from the United States. It makes sense, then, that Mexico vacations come in many forms. On the Caribbean side, you'll find Cancun and the Riviera Maya, which combine luxurious beachfront resorts with the opportunity to explore Mayan ruins like Chichen Itza and Tulum. On the Pacific coast, towns like Los Cabos, Mazatlan and Puerto Vallarta are perennial favorites for their laid-back atmosphere and beautiful natural scenery.
* Las Vegas. If you're looking for glitz, glamour and non-stop fun, Vegas should rocket to the top of your list. And if you're looking for a low-cost vacation, it's hard to beat Las Vegas travel deals. The beauty of Vegas is that it's a paradise for savers and spenders alike - you can find great deals on hotels and entertainment and still have plenty to lavish yourself with fine dining and luxurious spa treatments. Despite its reputation for fast living, Vegas is a family-friendly destination, even boasting hotels and resorts with themes that play into kids' favorite daydreams. Of course, if you're looking for a more grownup experience, Vegas won't disappoint, with scores of four-star restaurants and designer shops to keep you busy for days.
* Hawaii. America's slice of tropical paradise is the best way to get a taste of the South Pacific. Beach bums and adventurers alike will fall in love with these beautiful islands. On Maui alone, you can relax on secluded, sandy beaches or take a thrilling bike ride down the side of Haleakala, the sleeping volcano, before making the famous drive to Hana or dining and shopping in charming Lahaina. On Oahu, you'll find world-famous Waikiki Beach, the Pearl Harbor Memorial and a picture-perfect hike up Diamond Head State Monument.
* Florida. A family vacation to Florida's theme parks is just about as American as apple pie, and for good reason. It's the thrill of a lifetime for kids, who won't ever forget meeting Mickey and Minnie. The variety of theme parks is ever expanding, and cleverly combines fun and learning about science, nature and other cultures. What you might not expect, though, is that Florida's theme parks are also a great getaway for an all-adult trip like a girlfriend getaway or a golfing trip with your buddies. With top-notch spas, gourmet dining, luxury shopping and perfectly manicured golf courses, it's a perfect place for some grown-up relaxation.
* San Juan, Puerto Rico. It can be a challenge to make a decision about Caribbean vacations - with so many options, it's hard to know what's best. Skip the suspense and set your sights on San Juan. This charming city has been quietly winning the hearts of travelers over the years and you can easily find out why - you don't even need to change your money or get a passport. Puerto Rico is a melting pot of European and Caribbean culture with great food, rich history and architecture and lively nightlife. You'll also be able to get in touch with nature - it's a top ecotourism destination; boasting the only tropical rainforest in the U.S. National Park system.
With great deals available now, all you need to do is choose your destination and start planning. You can find deals by following your destination, hotels or vacation providers on Twitter and Facebook (for example, @deltavacations or www.facebook.com/deltavacations), which will help you to learn more about where you're going, get the most up to date specials and ask fellow travelers questions..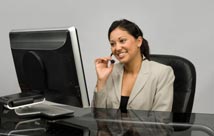 | | | |
| --- | --- | --- |
| | | Respond Vacations Directory lists the top Travel Agents in your area, organized by specialty and office location. |